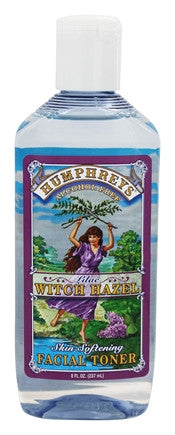 Witch Hazel, Humphreys (Discontinued item)
Humphreys Witch Hazel Skin Softening Toner Lilac 8 oz. (237 ml)
Humphreys Witch Hazel Skin Softening Toner Lilac is a toner for all skin types, especially people with rough, dry, or sensitive skin. For generations, Witch hazel has been used to leave the skin feeling soft, smooth and refreshed. This Alcohol Free formula combines Witch Hazel with Lilac, Aloe and Hyaluronic Acid to cleanse and moisturize, while extracts of Papaya and Pineapple help exfoliate -- leaving your skin irresistibly soft and noticeably smooth as a baby's bottom. Why wouldn't you want your skin to feel that soft again? Humphreys all-natural witch hazel and lilac toner gently nourishes dry skin without the use of harsh chemicals that can strip it of its essential moisture. Even the most sensitive skin takes on a healthy radiance.
Leaves skin incredibly soft and supple
Clarifies and refines pores
Helps improve luster and radiance
Humphreys has produced the highest quality natural skin care and personal care products for generations. These products are based on traditional, time-honored ingredients, updated to reflect the latest developments in health and beauty. Today, you and your family can benefit from the same quality and purity of Humphreys remedies—both homeopathic and herbal. Humphreys helps you care for your body in the gentlest way possible.
Softens and Soothes
Anti-Oxidant Protection 
Locks In Moisture 
Alcohol & Paraben Free 
I have heard of witch hazel, but what do you use it for?
Witch hazel has a number of uses for both skincare and personal care including:
Skin Care:

Removes excess oils and impurities normalizing your skin's moisture balance
Cleans and Tones the skin & refines and reduces the appearance of large pores
Will not overdry your skin
Removes the last traces of makeup
Helps to balance the normal pH of skin

Personal Care:

Soothes minor cuts and abrasions
Soothes minor irritation after shaving
Soothes skin from overexposure to sun
Helps to reduce inflammation
and because Humphreys Witch Hazel is all-natural, it is the most gentle formulation available!
---
We Also Recommend