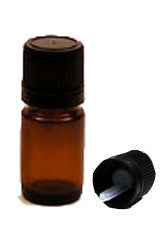 Angelica Essential Oil
Angelica Essential Oil is a delicate oil extracted from the root of Angelica, a large 'fur covered' plant with ferny leaves and umbles of white flowers. There are over 30 different types of Angelica, but Angelica archangelica is the most commonly used medicinally. Known as the 'holy spirit root' or 'oil of angels', Angelica oil's healing powers were considered so strong as to be thought of Divine origin by Europeans. Stems of the plant were chewed during the plague of 1660 to prevent infection; when burned, the seeds and roots were thought to purify the air.

The Chinese use at least 10 types of Angelica, well known in Chinese medicine for promoting fertility, fortifying spirit and for treating female disorders in general - Angelica's reputation for support is second only to Ginseng.
Pure essential oil of Angelica Root, steam distilled from the slender rootlets of Angelica grown in Hungary. This is an absolutely heavenly Angelica, very rich and beautifully complex.
---
We Also Recommend