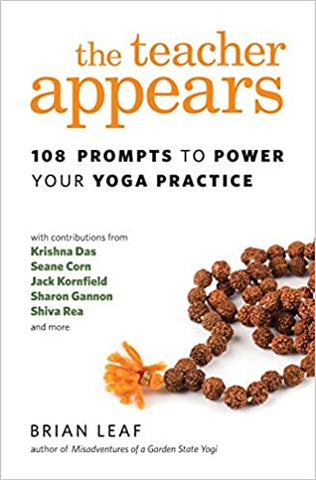 Book: The Teacher Appears: 108 Prompts to Power your Yoga Practice
When the student is ready…. THE TEACHER APPEARS. For anyone longing to deepen their yoga practice comes The Teacher Appears, an illustrated journal of 108 prompts. Includes original celebrity guest prompts from such luminaries as Krishna Das, Elena Brower, Jack Kornfield, Shiva Rea, Seane Corn, Gretchen Rubin, and more. Acclaimed author Brian Leaf guides readers to deepen their yoga practice with dristi, mudra, and pranayama; to explore their uncomfortable edges; to cultivate intuition; and, simply, to long for the divine, as they experience the true meaning of yoga. Readers discover a new depth to their yoga practice and a new level of dedication, meaning, and happiness in their lives.

THE TEACHER APPEARS features original contributions from Mayim Bialik, Beryl Bender Birch, Rachel Brathen, Elena Brower, J. Brown, Mallika Chopra, Seane Corn, Tiffany Cruikshank, Govind Das, Krishna Das, Lori Deschene, Alan Finger, Ana T. Forrest, Sharon Gannon, Joseph Goldstein, Schuyler Grant, Anna Guest-Jelley, Dan Harris, Bryan Kest, Jack Kornfield, Tias Little, Sarah Platt-Finger, Shiva Rea, Dave Romanelli, Gretchen Rubin, Mark Stephens, David Swenson, and Ganga White.
---
We Also Recommend