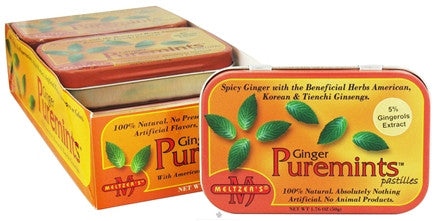 Ginger Mints - 100% Natural Ginger candy
Meltzer's - Puremints Pastilles 100% Natural Ginger - 1.76 oz. (50 g)
Meltzer's 100% Natural Ginger Puremints pastilles contain real ginger root, standardized to 5% ginerols. Meltzer's reinvents natural pastilles by using healthy, beneficial herbs - not just flavors. Made via supercritical extraction, Meltzer's ginger is extremely pure and very high quality. American, Tienchi, and Korean ginsengs provide additional health and digestive benefits.
Meltzer's Ginger Root
Meltzer's Ginger Puremints pastilles contain real ginger root for a strong, spicy ginger bite. The high quality and purity of their ginger, which is standardized to 5% gingerols, also makes Meltzer's Ginger mints helpful for motion sickness and nausea - 'ginger like' flavors cannot do this. Their Ginger mints can be savored slowly, chewed, or swallowed - whatever your spicy desire!
Ginger - Zingiber officinale and Korean, Tienchi, and American Ginsengs
Spicy, pungent, and warming all describe the commonly used spice known as ginger (Zingiber officinale ). Ginger has a long and well-documented history of culinary and medicinal use and many of its health benefits, such as helping with nausea and motion sickness, have been substantiated in scientific research. Meltzer's Ginger mints contain standardized ginger root which contains 5% gingerols to ensure consistent levels of active components. Meltzer's ginger is supercritical extracted (made without dangerous solvents) and not irradiated - for the highest quality ginger mints they could make!
Traditional Use
The use of ginger dates back many centuries. It was commonly used throughout Asia and Europe. Chinese herbalists traditionally use ginger to expel cold and rekindle the body's warm fires. It is also used for some types of intestinal discomfort, cough, and body aches. The most widely known use of ginger today is for nausea and motion sickness, thus giving some western insight as to why, in China and India, ginger is believed to stimulate and strengthen the stomach. Modern research on nausea and motion sickness used approximately 1 gram daily which is equivalent to about 6 servings of Meltzer's Ginger mints. Meltzer's ginger mints contain a standardized ginger extract, not just regular powdered ginger. Research has also found ginger to be a powerful antioxidant. Ginger has also been shown in research to have a regulatory role in the natural inflammatory response of the body. In India ginger is applied as a paste to the temples to relieve headache.
---
We Also Recommend