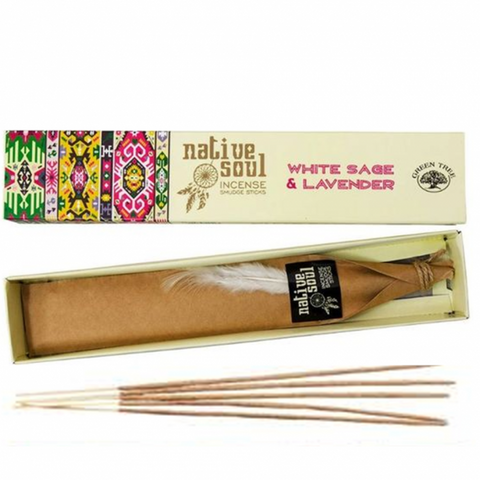 Incense: White Sage and Lavender Sticks 15g.
White Sage and Lavender Sticks.
The combination of the earthy aroma of White Sage with Lavender provides a perfect environment for meditation. Both aromas combined create a powerful, peaceful, harmonious atmosphere for a greater relaxation experience
White Sage, a plant from the mint family, is used by the Native Americans for purification ceremonies and healing sessions. It is known for its cleansing qualities.
Lavender, well known for its medicinal qualities as well as its power of protection and cleansing, works to soothe and calm peolple by restoring emotional balance. It also opens the heart chakra, thus attracting loving energy.
Green Tree premium Masala sticks are natural and hand-rolled using mixtures of herbs, gums, resins, woods and oils.
 Each fragrance has been carefully made according to traditional Indian recipes.
 Decorative display box included, 15 grams each.
DETAILS
Box Contains 10 – 12 incense sticks
Stick Incense Burns for 45 – 60 minutes each
Hand rolled in India from all natural ingredients
Decoratively packaged with a peace feather
Native Soul Other Premium Masala Hand Rolled Incense Sticks: White Sage & Dragon's Blood, Holy Smoke, Palo Santo & Copal, Sweetgrass & Yerba Santa, White Sage & Lavender, White Sage & Palo Santo
---
We Also Recommend