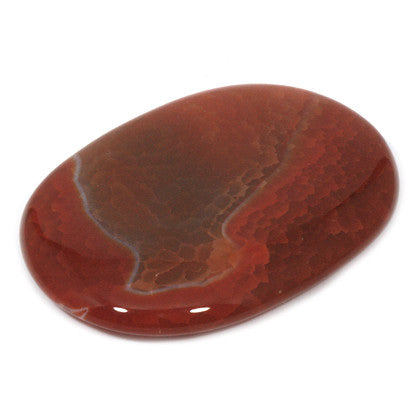 Stone: Fire Agate Palm Stone
This calming Fire Agate Palm Stone exhibits an opal like iridescence with delightful swirling patterns of brownish reds and greys.
Fire Agate has a deep connection to the earth and is said to have a strong protective function, especially against ill-wishing.  Holding a Fire Agate is believed to encourage introspection, effortlessly bringing up inner problems for resolution.
This palm stone is smooth and tactile and fits in the palm of your hand. If you feel stressed or anxious, simply focus on the stone to soothe away your worries.
Whether for yourself or a loved one, this fire agate palm stone is a beautiful way to benefit from the soothing energy of the crystal at all times.
Our standard palm stones are excellent for crystal healing and make it easy to carry your favorite crystal with you. Palm stones are designed to fit into the palm of your hand and have a lovely tactile shape. They can be used in lots of ways and are beautiful enough to display at home. Lay these palm stones on the skin, use them focus energy, carry them with you or simply hold the stone to feel its energy. We also have crystal thumb stones that are smaller and have an indentation for your thumb.
Stones sold by the each.
---
We Also Recommend