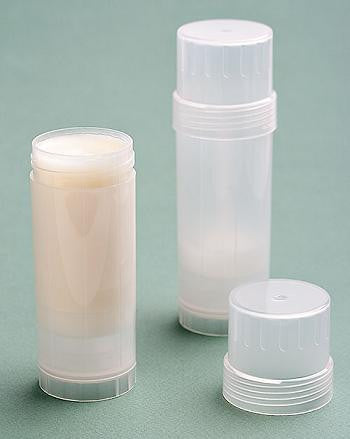 Tube: Empty Twist-Up
2 oz Natural round tubes with a twist-up (propel/repel) base. This is NOT a push-up tube. It twists up & down like a lip balm tube.
Recommended filling temps (plus or minus 5 degrees):
145 degrees for a deodorant or lotion bar (product w/out alcohol)
165 degrees for an antiperspirant
Filling with a solution that is too hot can warp the plastic & damage the mechanisms. Containers are not "water tight", so pouring too hot can also cause leaking (until the formulation solidifies). Compatibility testing is always recommended.
Set includes natural round twist-up tube w/screw-on cap.
2 oz (57g) capacity
Polypropylene. #5 Recyclable
BPA Free (Product is not manufactured with BPA, BPS, DEHP, DBP, BBP, DINP, DIDP, DNOP, PFOA, PFOS, PVC, HIPS Mercury or Lead)
HEIGHT W/OUT CAP: 4"
HEIGHT W/CAP: 5"
DIAMETER: 1.5"
LABEL AREA AROUND CONTAINER: 5"
LABEL AREA HEIGHT: 3"
COMPATIBLE LABEL SIZES: 4x2, 2.75x2.75, 2x2, 1.67" Circle, 2.5" Circle
(1x2.625 or .5x1.75 will also work, but are very small compared to size of container)
Please note that container has a slight taper, so labels larger than those recommended will need to be tested.
---
We Also Recommend