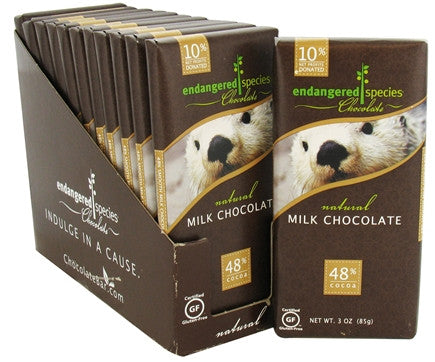 Milk Chocolate All Natural candy.
Endangered Species All-Natural Smooth Milk Chocolate Otter 48% Cocoa Content 3 oz. (85 g)
Endangered Species All-Natural Smooth Milk Chocolate Otter 48% Cocoa Content is made with all-natural, shade-grown, ethically traded, single-origin smooth milk chocolate. At 48%, this chocolate bar has a relatively high cocoa content as far as plain milk chocolate bars go. The sea otter image and information is printed on recycled 30% post-consumer FSC certified paper. The chocolate is ethically or fairly traded, guaranteeing the workers fair wages and humane working conditions. This product is also certified Kosher by Orthodox Union and gluten-free by Gluten-Free Certification Organization. Inside specially marked HOPE wrappers, look for a code to earn HOPE points at itstimeforhope.com where you can win coupons, gift cards and charitable donations.
Can we resist saying, "you otter give our milk chocolate a try?" Nope. If you want a biased opinion, this is the best milk chocolate on the planet. Increase your knowledge of clever coastal creatuers by reading the inside of the wrapper, filled with insightful knowledge about sea otters, an at-risk species. Your chocolate purchase tastes all the more sweet knowing that it is supporting conservation efforts.
48% cocoa content
Certified gluten-free, kosher
Sourced from ethically traded cacao farms ensuring fair trade, responsible labor practices and sustainable farming
Healthy Planet, Healthy You
Your health and the health of the planet are important. Creating chocolate that satisfies both of these priorities is a snap because what is good for the body is often good for the Earth. Endangered Species' exceptional ingredients are carefully sourced from growers that care about quality and taste while working in harmony with nature.
Benefits For The Body
Endangered Species combines their chocolates with All-Natural and Organic ingredients - leaving no room for artificial colors, flavors, or preservatives. With cocoa contents ranging from 70 – 88%, their dark chocolates boast a healthful dose of beneficial antioxidants and flavonoids. The Organic Health line combines exotic, healthful ingredients with premium chocolate to create nutrient-added, smart indulgences.
Benefits For The Soul
Chocolate has been shown to trigger the release of endorphins, the "feel good" chemicals, in the body, creating a sense of calm and even euphoria. Phenyl ethylamine, a substance found in chocolate, stimulates the nervous system - closely mimicking the feelings associated with (sigh) falling in love! Cousins of caffeine, theobromine and theophylline exist in chocolate but in small amounts. Chocolate is a much weaker stimulant than most people think. In fact, a typical 1.4oz. chocolate bar contains the stimulant equivalent of a cup of decaf coffee.
---
We Also Recommend