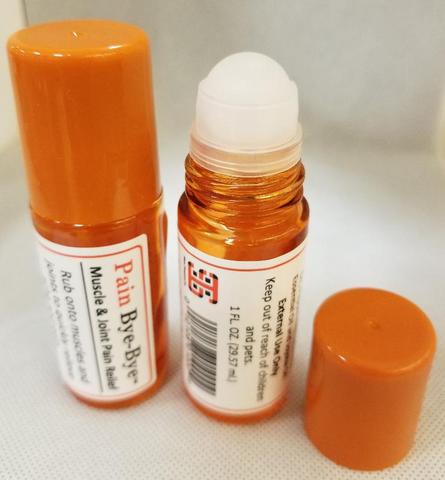 Pain Bye-Bye™ Natural Pain Rub (Special Price) Offer. 4 Bottles for $99.00
Pain Bye-Bye™ Natural Pain Rub. 1 oz roller bottle.
THREE DAY ONLY SPECIAL
Special: You get 4 bottles for the price of $99.00  WHAT ARE YOU WAITING FOR?

Regular price is $35.00 ea. ($140.00 Regular price)

All Natural blend of Pure Essential Oils of Peppermint, Cajeput and Jojoba Oil.  Just rub it on to relieve muscle and joint aches and pain.
IT WORKS FAST.  It comes with a 100% Satisfaction Guarantee.  If you do not love it, just mail it back and receive a refund of your purchase price.

Ingredients: Peppermint Japanese, Cajeput Essential Oil and Jojoba Oil.
You need this product.
Packaged in a convenient Roller Bottle. Large one ounce size.
NEW 3 OZ. Roller-Top Bottle with Child Resistant Cap.

It's Simple

,

It's Powerful

,

IT WORKS!

 

100% Satisfaction Guarantee.

Made in USA
---
We Also Recommend