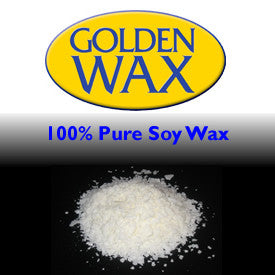 Soy Wax
Golden Brands 415 wax is a pure soy container wax that contains no additives, no preservatives and is both natural and kosher. Soy wax is often preferred because it does not produce the dreaded black petroleum-carbon soot and it provides 30-50% longer burn than paraffin candles. Soy wax is produced from soybeans, a renewable resource supporting American farmers. It is water-soluble, so it cleans up easily with soap & water. Great blending wax for paraffin and natural wax. This wax has an excellent scent throw both cold and hot.
Melt Point : 121° - 125° F
Pour Temp: 90° - 100° F (pouring at higher temps may require a heat gun to smooth tops)
FO Load: 7% - 9% (up to 1.5 oz fragrance per pound of wax)
USES:
Container candles
Cosmetics (creams, lip balms, lotions, etc) & soap
Cooking & Baking
INSTRUCTIONS FOR CANDLE MAKING:
~ Heat wax to 185° F (do NOT exceed 200° F as this may discolor and/or burn your wax)
~ Add color & fragrance oil (Add fragrances with higher flash points at 185° F. Add fragrances with lower flash points (such as citrus) around 160° F)
~ Remove from heat source & stir gently for 2 minutes
~ Allow wax to cool down to 110° F. The wax may be slushy in appearance, but this pouring temp will allow your candles to have a smoother surface.
~ Stir again & pour into container of choice.
~ Allow to solidify at room temp & cure for 24-48 hours
~ Soy wax creates a natural frosted look. To reduce this, apply heat to top of finished candles with a hair dryer.
100% Pure, All Natural Soy Wax. Packaged in convenient white flakes.
Food grade ~ Kosher
Cruelty Free ~ No Animal Testing
No Animal Products ~ Vegan Friendly
Hypo-Allergenic
Alcohol-free
Biodegradable
Shelf Life recommendation: Store product and maintain its temperature in a cool (75° F or below), dry area away from odor.
Tips:
Because soy is a natural product & can vary slightly between batches, we recommend testing a candle with each purchase to ensure no adjustments are needed with wicks or fragrance load.
Ingredients:
Partially Hydrogenated Soybean Oil - Kosher Pareve
---
We Also Recommend