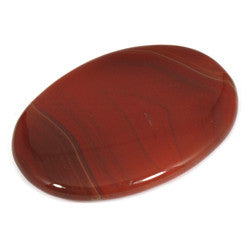 Stone: Carnelian Red Palm Stone
Red Carnelian Palm Stone.
The fiery character of carnelian is echoed in its gorgeous reds, oranges and beautifully soft tone. This palm stone has been carefully polished to fit in the palm of your hand.
Hold this crystal during meditation or carry it on you, holding it when you feel stressed. Carnelian is said to lift the mood and the libido, restoring our passion for life. It is said to protect and has been used as a grounding stone for thousands of years.
Give to a loved one or start enjoying the beauty of carnelian today with this gorgeous stone.
High polish
Size approx 2 x 2-3/4 in.
---
We Also Recommend