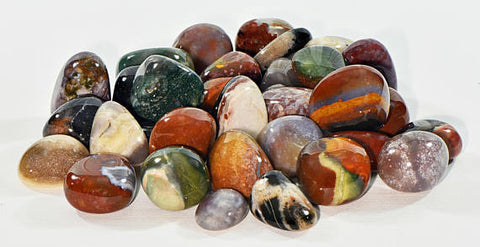 Stone: Sardonyx, aligning and balancing the Chakras

Sardonyx is a powerful stone for connecting with your inner voice and learning what your divine soul has to share with you. It is a great gemstone for ground yourself before any work with natural & Elemental sources of magic or power. It is a harmonious stone for Chakra work; aligning and balancing the Chakras for optimum experiences. It is a stone that brings out your inner child, your exuberance, and your confidence to pursue the things in life that bring you happiness.

Sardonyx is an ancient stone revered by the Romans and used to create many of their intaglios and seals found in archaeological digs today. They would often carve imagery of gods or goddesses into the sardonyx and wear the stone in a ring, pendant, earrings, or necklace. Sardonyx can contain onyx, carnelian, carbon, iron oxide which gives it tan, brown, ivory, red, or black hues.

You will receive one stone approximately 1" - 1 1/4".
---
We Also Recommend